Flexibilný a efektívny systém riadenia budov si vyžaduje úplný prehľad a komplexnú kontrolu. Softwarové riešenia od firmy SAUTER pre management a vizualizáciu uľahčujú riadenie a monitorovanie jednotlivých komponentov priestorovej automatizácie a sú predpokladom pre energeticky výhodný manažment budov.
SAUTER Vision Center

SAUTER Vision Center je centrálou riadenia a zároveň nadradeným riešením na prípravu všetkých dát zo zariadení, budov a prináležiacich nehnuteľností. Takto ponúka systém riadenia budov a spotreby energií, založený na webovom rozhraní (BEMS-building and energy management solution) funkcie pre priestorovú reguláciu a monitorovanie energií ako aj priamo nadradené informačné náhľady (Dashboards) s dôležitými ukazovateľmi (KPIs) a príslušnými grafmi. Tu nájdete viac informácií ohľadom SAUTER Vision Center.
SAUTER moduWeb Vision
SAUTER moduWeb Vision je komplexný systém vizualizácie a riadenia pre neustále monitorovanie všetkých zariadení. Ak dôjde k poruche, zariadenie pošle automaticky SMS alebo e-mail o alarme a hlásenie o udalosti vopred určeným osobám. Vďaka zabudovanej Web-technológii nie ste závislý na servisných intervaloch bežných prevádzkových systémov a štandardných počítačových technológií. Tu sa dozviete viac o SAUTER moduWeb Vision.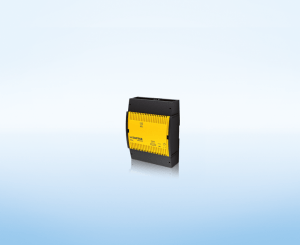 SAUTER EMS
SAUTER EMS (Energy Management Solution) je profesionálne riešenie manažmentu energií pre budovy, ktoré je možné používať ako systémové riešenie z Cloudu ako aj lokálne nainštalované. Umožňuje centrálne spravovanie najdôležitejších ukazovateľov Vašich zariadení a budov. A pomocou modulu EMS Mobile pre manažment energií monitorujete a optimalizujete efektívne využívanie energií aj cez tablet alebo smartphone.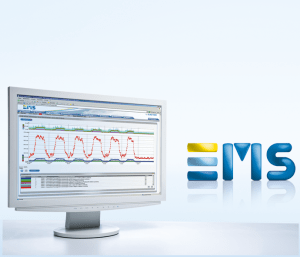 SAUTER EMS je ideálny nástroj pre analýzu spotreby energií Vašej budovy a zariadení a umožňuje účinnú optimalizáciu. SAUTER EMS poskytuje aj porovnanie ukazovateľov podobných objektov. Merané údaje sa analyzujú a znázorňujú v štandardizovaných reportoch alebo prostredníctvom web portálu integrovaného v SAUTER-EMS-Server ako aj prostredníctvom EMS Mobile. Vďaka tomuto web portálu a EMS Mobile máte prehľad o všetkých relevantných dátach ohľadom energií. Viac o SAUTER EMS tu.
modulo 6
Modulo 6 poskytuje doteraz nedosiahnuteľný výkon vzhľadom na dátové body na 1 automatizačnú stanicu,  úložnú kapacitu a rýchlosť spracovania. To všetko umožňuje a pritom v rozvádzači zaberá minimum priestoru. Dizajn a flexibilita prvkov modulo 6 umožňuje pripraviť riešenia šité na mieru a pritom optimalizovať celkové náklady. Počnúc priestorovou reguláciou samostatných priestorov až po prepojené globálne skupiny budov.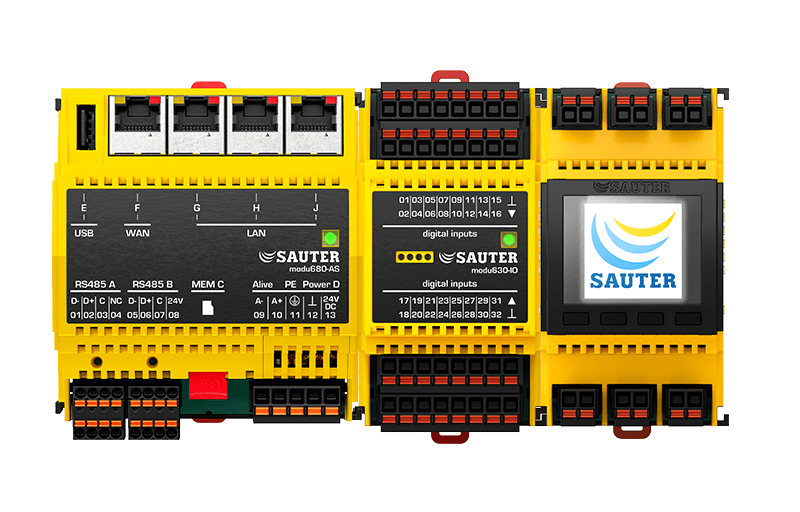 Viac informácií o modulo 6 nájdete tu.
ecos 504
Rada produktov ecos 504 výrazne prispieva k integrovanej, bezpečnej priestorovej regulácii.
Viac informácií o priestorovej regulácii od firmy SAUTER nájdete tu.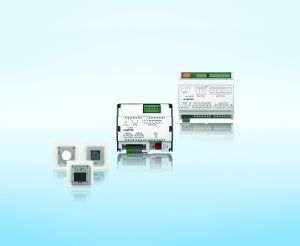 Smart Actuator
SAUTER Smart Actuator spája flexibilitu a predvídateľnú údržbu. Inteligentný pohon Smart Actuator, schopný IoT,  predstavuje digitálnu transformáciu pomocou zberníc v technológii budov.  Okrem iného to prináša používateľovi výhody v podobe kratšieho trvania projektov a nižších celkových nákladov pri montáži zariadenia ako aj pri uvedení do prevádzky. Chcete vedieť viac? Viac informácií o inteligentnom pohone (Smart Actuator) nájdete tu.